Enhance your Business Central environment with Anveo EDI Connect
Anveo EDI Connect
Anveo EDI Connect is what we call an embedded third party solution for your MS Dynamics 365 Business Central environment.
Business Central does not offer EDI (Electronic Data Interchange)-capabilities out-of-the-box. This is where Anveo EDI Connect kicks in … it takes care of your EDI processes with your customers, vendors or other external parties.
What is EDI?
EDI (short for Electronic Data Interchange) is a generic term for standardized (by agreed message standards) and fully automated data interchange of certain business documents & transactions such as sales/purchase orders, invoices, shipment notes, etc. As an EDI process is fully automated, human intervention is only intended for error handling and quality reviews.
There are 4 key steps in an EDI process (in the case of sending out a message to an external partner but it could off course also be the reverse process when receiving messages)
Preparing your data
Transformation of the data to the EDI standard*
Sending the EDI message through an EDI protocol*
Partner receives the message
During these key steps statuses and potential errors are constantly monitored.
* The 2 key things you have to decide when you set up your EDI processes:
You have to decide with your partner in what format the message should be sent/received, that's your EDI standard. Examples of these standards are EDIFACT, X12, XML, CSV and TXT.
You have to decide how you want to send/receive the EDI message: the EDI protocol. Examples of these protocols are POP3, SMTP and FTP(S).
Besides the EDI standard & the EDI protocol you have to decide with your partner about the frequency & date/time of the messages (often the larger company with more leverage power decides that there will be "traded" through EDI, so they will probably decide the frequency + date/time too).
What does Anveo EDI Connect offer on top of Business Central?
Anveo EDI Connect offers a Cloud-ready, embedded standardsolution, without any custom development, for all the steps described above:
Preparing & converting documents to an EDI standard is done completely in Business Central for all main EDI-formats (EDIFACT, X12, XML…). Here you have the possibly to upload examples XML-files as a basis for the preparation for instance via the Assistant Setup.
After that the EDI message could be sent to or received from any MFT (Managed File Transfer)-platform or Anveo's own MFT-platform. Anveo's own platform supports several EDI protocols such as POP3, SMTP and FTPS.
In parallel, monitoring of statuses, error logging and troubleshooting can be carried out in order to facilitate a smooth EDI process.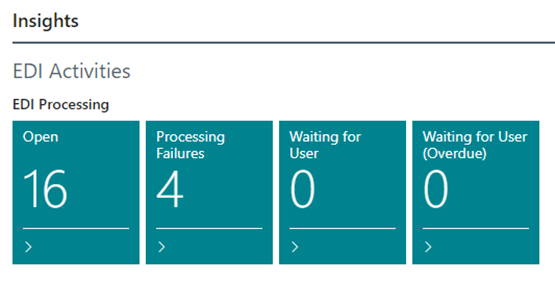 Specifically for EDIFACT Anveo EDI Connect offers a "ImportEdifactAssistant". Because EDIFACT has multiple versions of the standard (https://unece.org/trade/uncefact/unedifact/download) and different EDI partners can expect different EDIFACT versions, you need to implement the right EDIFACT versions.
Why choose an embedded EDI-solution instead of a separated connected EDI-solution?
One important aspect of an embedded solution such as Anveo EDI Connect is how fast it can be implemented and how efficiently it can maintained:
It automates the end-to-end EDI process within Business Central itself. For instance, if you create a purchase or sales order, the user can confirm the document with just a few clicks. Also, the software recognizes if the vendor or customer is set up as a trading partner and subsequently triggers the right EDI message that needs to be delivered.
As embedded solution it just extends the Business Central database/applications and directly connects to available Business Central data such as sales orders, invoices etc.
The Assistant Setup helps you save valuable time; your EDI structure is set up with a few clicks by the use of example files
Error handling and troubleshooting get easier as all information is within the same database/application, with the possibility to resend documents based on archives for instance
Data compliance gets easier as all data is in the same application/database
No separate EDI broker/platform is required
No custom code/development is required
As certified BC solution Anveo follows the major release cycles of Business Central, offering every year new features in an automated way
Interesting links